Red phone box turned into Little Eaton village library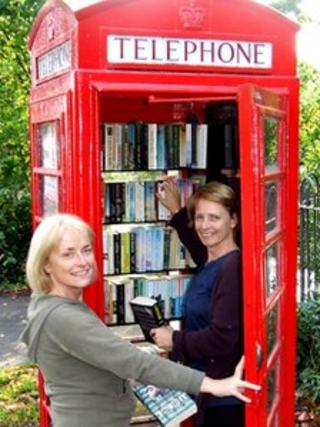 A red telephone box which was bought for £1 has been turned into a village library in Derbyshire.
The former public payphone, which was purchased by Little Eaton Parish Council, was converted into a book exchange after a suggestion by the village book club.
The box on Alfreton Road has been stocked through local donations.
Clare Howard, from the book club, said a library was the one facility the village lacked.
"We've got the butcher, a chemist, a doctor, pubs and shops but we didn't have a library," she said.
"The phone box was outside my house, looking a bit shabby and not doing much. Once we knew it was possible we said, 'let's go for it'."
People can go to the exchange take a book and swap it for one of their own or one they are returning.
The idea was inspired by other renovated telephone boxes, including a mini art gallery and tourist information centre.