Jack O'Connell: Slow start to year left me worried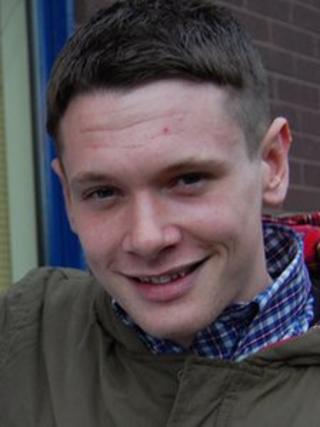 As a passionate Derby County fan, actor Jack O'Connell would probably appreciate the analysis of his past 12 months as a year of two halves.
The 21-year-old, from Alvaston in Derby, said a shortage of film offers in the first part of 2011 left him questioning his future.
But a much busier second half of the year saw him cast in three films due for release in the new year.
He also won praise for his portrayal of Sir Bobby Charlton in BBC drama United.
O'Connell, who went to St Benedict School in Derby, made his name as a teenager in movies This is England and Harry, as well as a lead role in Channel Four drama Skins.
But a lack of fresh opportunities in the early part of 2011 saw doubt begin to creep in.
He said: "The first half of the year was worrying because I'd had nothing in.
"I'd done one short film which, for the first time since This Is England, had brought me back to the East Midlands. Working from home was a novelty.
'Incestuous' industry
"It got to about August, I wasn't getting anything in and I was starting to consider my options.
"As an actor you can feel on top of your game one month but then go two months without a job and you're seeing people around getting cast in this and that which you'd hoped to get.
"Anytime you fail, people hear about it. It's pretty incestuous in that respect. It does leave room for a lot of doubt to creep in.
"Next thing I know, three come along at once - it's worse than buses."
The new movie roles included starring alongside Tim Roth in thriller The Liability and playing soldiers in The Somnambulists and Private Peaceful.
O'Connell said he was particularly passionate about military roles because he had planned to join the army as a youngster after injury scuppered his hopes of playing professional football.
Success for peers
Perhaps his most high profile role of 2011 was his portrayal of Sir Bobby Charlton in United, a BBC drama about the 1958 Munich air crash.
His performance as the grieving football captain won him acclaim from critics.
He said another highlight of the year was seeing former St Benedict schoolmates, and fellow alumni of Nottingham's Television Workshop, Lauren and Michael Socha taste success.
Lauren Socha won a Bafta for her part in Channel Four's Misfits and Michael Socha starred in BBC Three's Being Human.
O'Connell said: "You can imagine how surreal it all feels. I grew up with Lauren and Michael - we went to the same school.
"To see them making movements - Lauren is winning awards - is really satisfying."
The start of 2012 is pretty blank for O'Connell but this time round he says he is relishing the thought of handpicking roles which take him away from the "bad lad" characters he has become known for.
He said: "I'm looking forward to starting next year with no commitments so I can have a real snoop around and hopefully be cautious about the next job I choose.
"I've worked a lot in one particular category of characters so I can't really afford to repeat myself too much now.
"I don't want to be typecast - I want to play anything."