Hulland Ward fire death mother denies jumping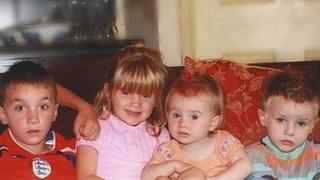 The mother of four children who died in a Derbyshire house fire has denied jumping from a window without them.
Tommy Henson, nine, Alisha Henson-Nulty, six, Rocco Henson-Nulty, four, and Appolonia Henson, two, died at the property in Hulland Ward on 24 January.
Rachel Henson said a police statement suggesting she left Appolonia behind had been made while she was upset.
But a firefighter questioned her account and the coroner said a working smoke alarm would have saved lives.
Recording narrative verdicts on the four deaths, South Derbyshire coroner Robert Hunter said: "The absence of a fire guard and the removal of, and non-function of, a smoke detector were contributing factors in these deaths."
Derby Coroner's Court heard on Tuesday the fire was probably caused by a spark from an unguarded fire and the property had no working smoke alarms.
Son 'frightened'
Giving evidence, Ms Henson said she had been woken by Tommy to find the house full of thick smoke.
Ms Henson told the inquest an explosion blew her from the window.
After making it into Appolonia's room she said she had tried get Tommy out of a window to escape.
She added: "I was pushing and he was frightened and he was pushing his arms and legs against the outside of the window to not go through.
"The next thing I know, I'm going through the air and I'm on the floor.
"I did not jump and leave him in there."
Disputed statement
Mr Hunter asked if she was sure she did not jump from the window.
He read her part of a police statement she made just after the fire in which she said: "Thinking back, I know Appolonia was right next to me as I jumped out the window but I do not think I took her.
"I wasn't in that frame of mind."
Ms Henson replied she was upset in the immediate aftermath and her thinking had been "cloudy".
Chris Smith, of Derbyshire Fire and Rescue Service, gave evidence on Tuesday but was recalled to discuss the claim Ms Henson was blown out of the window.
Mr Smith said tests showed no evidence of such an explosion and added any person involved would also have been potentially seriously burned or fatally injured.
He also said there was no evidence to show any of the windows in the upstairs bedrooms had been opened.
'Not massively drunk'
Asked whether the stairs would still have been usable at this time, Mr Smith replied they probably would.
The inquest also heard Ms Henson had drunk a bottle and a half of wine that evening.
Asked if she was drunk, she said: "Not massively drunk. I had had a bottle and a half of wine and I was tired and ready for bed rather than drunk."
Before recording narrative verdicts on all four of the children Mr Hunter described Ms Henson's evidence as "graphic and believable" but said he found it impossible to determine how she got out of the house.
Speaking outside court Ms Henson said the hearing had been "very fair".
She added: "There's some important points that we ought to deal with - smoke alarms and fire guards - and it's just been a very distressing time."