Poultry farmer opts to quit following EU rule change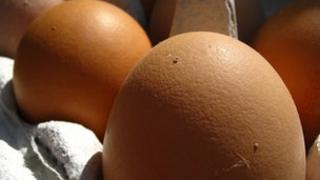 A Derbyshire poultry farmer has spoken of his "heartbreak" after deciding to close his farm following a change in EU rules on battery hens.
From 1 January, new legislation states that all laying hens must be kept in "enriched" cages with extra space to nest, scratch and roost.
Graham Hartshorne, from Featherfield Farm in Crich, said he could not afford to spend £300,000 upgrading his barns.
Instead his remaining hens will be slaughtered and the farm shut down.
The change in legislation has been welcomed by animal rights campaigners, but Mr Hartshorne said it had robbed him of his livelihood.
'Not worth it'
He said: "To be honest I could cry at times. I've no words for it - it's heartbreaking.
"I started in this business when I was 14 - now I'm 73. At one point we had 15,000 hens here but that's now down to 2,000, which are going this Christmas."
Mr Hartshorne estimated it would cost him about £250,000 to upgrade cages for 10,000 laying birds plus £50,000 for new barns.
He said: "I can't see the point of spending all that money. Scaling up is just not worth it."
His wife, Gillian, said: "It's a big upheaval really. Obviously you can't keep working forever and a day but it's the way we've had to finish that really hurts.
"Eggs have been our life - our customers are our friends. Work's been the be-all-and-end-all so it's going to be a big change."
An estimated £400m has been spent by UK egg producers installing new colony systems to replace battery cages.
However, the British Egg Industry Council claims that more than a third of EU cage egg production will break the new rules, with 84 million hens still kept in illegal battery cage conditions next year.