Derby City Council to make £23m budget cuts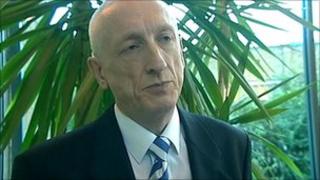 Derby City Council has approved nearly £23m worth of cuts to its budget for the next financial year.
The council said it was freezing council tax but needed to make savings to deal with a drop in central government funding.
About 500 jobs at the authority will go with some staff leaving within weeks.
Leader Philip Hickson said the Tory-Lib Dem coalition authority had safeguarded front-line services but Labour said the budget would hurt the local economy.
The council is cutting £22.7m from its 2012/13 budget and said it needed to save £90m over the next five years.
Most of the detail on how different departments will make the required savings have still to be worked out.
'Hard-pressed public'
However library opening hours will be cut, the number of park rangers who put on events in Derby's outdoor spaces is being reduced and the council's dial-a-bus service which transports people to supermarkets is being scrapped.
There will also be cuts to the council's Supporting People programme which aims to help elderly people stay in their own homes.
The authority had already agreed to delay proposed cuts to Quad arts centre and the Deda dance centre after hundreds of complaints.
Mr Hickson said: "This is a budget which will balance the council's book, will provide for investment and regeneration in the city, protect front-line services and most importantly not levy any council tax increase on the hard-pressed public.
"What we want to do is squeeze out poor management and make sure we're delivering the best possible services at the lowest possible cost.
"All the time we're reconfiguring services, modernising them and making them fit for purpose. You don't make services better just by throwing money at them."
Labour leader Paul Bayliss said the budget would damage the public and private sectors and would reduce demand in the local economy.
However Mr Bayliss conceded he would not be able to reverse all of the cuts if he assumed power following next May's local elections.