HEROtsc to hire 700 staff for new Derby call centre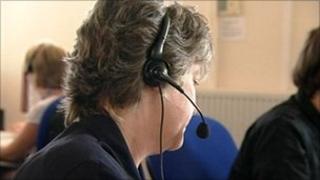 Seven hundred jobs are being created at a call centre in Derby, formerly run by the financial firm Egg.
HEROtsc will move the staff into its new Derby operations centre in the next six months with a recruitment drive starting immediately.
The site, at Pride Park, will operate part of Sky's customer service centre.
HEROtsc spokesman David Turner said it was hoped operations at the site would be increased to bring the total number of new staff to 1,500 over 18 months.
A recruitment drive to hire staff from Derby and surrounding areas will start on 17 December.
"I am delighted to say that we are in a position to offer employment opportunities at a variety of levels to the Derby workforce," Mr Turner said.
HEROtsc was formed after Telecom Service Centres (TSC), which was set up in the 1990s in Rothesay, on the Isle of Bute, west of Glasgow, became part of the Indian-based multinational Hero Group three years ago.
The firm already employs more than 4,000 staff at eight call centres in the UK - mostly in Scotland.
Derby City Council chief executive Adam Wilkinson said the decision to expand into Derby "shows the benefit of the council's open approach to business".
"This is another winner for Derby."