Sixty tablet-a-day girl Olivia Ford to carry Olympic torch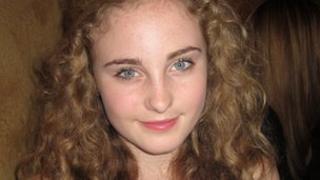 A Derbyshire girl who has to take more than 60 tablets a day has been offered a place as a torchbearer for the London 2012 Olympics.
Olivia Ford, 14, from Dronfield Woodhouse, has cystic fibrosis, liver disease and diabetes.
She also has to have physiotherapy twice a day and has a line constantly supplying her with insulin.
Sarah Ford, Olivia's mother, said her daughter was an inspirational girl who lived life to the full.
'A big thing'
Mrs Ford nominated her daughter to be a torchbearer.
She said: "This will be an excellent experience for Olivia, we are all so proud of her.
"She is a fantastic singer and wants to be an actress when she is older."
Olivia was told that she had been offered a place as a torchbearer by her mother.
She said: "I couldn't believe it at first and I just screamed.
"I'm really happy. It's a big thing. It's one of those things that you'll never forget.
"I love the Olympics and the gymnastics the best."
'So brave'
Cystic Fibrosis is an inherited disease and affects more than 9,000 people in the UK.
It affects the internal organs, especially the lungs and digestive system.
"Olivia is so brave and never complains about any of her daily routine or medications," said Mrs Ford.
Some 6,800 of the 8,000 people who will carry the Olympic Flame have been offered torchbearer roles via email.
About 37,000 people applied for the role through the Olympic organisers, Locog, with 28,000 making it through to selection by regional panels.