Campaign to prevent damage to Peak District's unsurfaced roads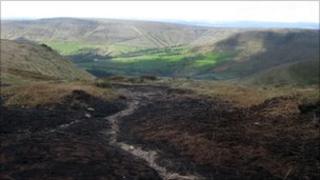 One of the UK's most popular national parks is spending £100,000 on a two-year campaign to prevent damage by trail bikes and 4x4 vehicles.
Peak District National Park Authority said the money would be spent on better management and monitoring of unsurfaced roads in the park.
Further public consultation on park use will also be held with 4x4 owners, walkers and cyclists.
The park has more than 10 million visitors a year.
"It's our job to consider the impact of 4x4 and trail bikes using unsurfaced tracks on the environment, local communities and on the quiet enjoyment of the national park," park authority committee member Christopher Pennell said.
"It is a long and complex legal process to decide which routes do have legal vehicle access and those that don't."
The park has land located in Derbyshire, Staffordshire, West Yorkshire, Cheshire and South Yorkshire.