Strike disrupts schools and services in Derbyshire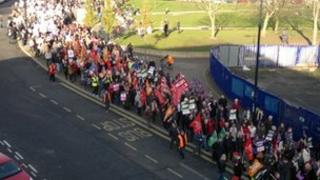 More than 370 schools in Derbyshire were closed for the day due to the national strike over pensions.
In Derby, 79 of 92 schools closed and at least 300 out of 404 county council-run schools closed or partially shut.
A march, which started at Derby's Silk Mill and ended at the Market Place, was attended by more than 1,000 people.
The 24-hour walkout caused significant disruption to services across Derbyshire. The government said the strike action would "achieve nothing".
The government said with people living longer, the cost of public sector pensions was rising and reform was desperately needed.
Jessica Lee, Conservative MP for Erewash, said pension negotiations were still continuing.
She said: "We are not trying to penalise in the way that is being suggested by some of the union bosses."
Karen Guy, from Unison, said making public sector workers pay more in pension contributions was "unfair".
She said: "Staff can't afford to pay an extra £50, £60 a month just for the government to raise an extra £3bn."
In Chesterfield, a rally was held at Club Chesterfield, on Chester Street, following a march from Rykneld Square which started at 11:00 GMT.
Derby City Council said the Whitaker and Morleston day centres and its customer service office on Albion Street had closed.
It said it would keep an updated list of school closures and affected services on its website.
Derbyshire County Council said services would be affected but it "would continue to provide services to the most vulnerable people".
The council also said it would maintain an up-to-date list of school closures.