'Hope' for Hatton Nestle Dolce Gusto coffee plant villagers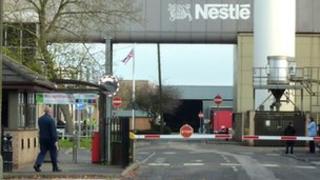 Job security is a big thing for couples like Jackie Machin and Ryan Penley, living in the Derbyshire village of Hatton.
"It's awful," said Miss Machin.
"I work two jobs, seven days a week - and Ryan works 60 hours every week with an agency."
The engaged couple said they had found it almost impossible to get permanent jobs in the area and had been forced to rely on whatever agency shifts they could find.
However, with the announcement that Nestle plans to create 300 jobs in a £110m expansion of its Dolce Gusto coffee factory, there is new hope for couples like them.
"At the moment, because of the shifts we work, we're like ships in the night," said Miss Machin.
"But the promise of a permanent job would bring us closer together and I'd feel more relaxed."
Mr Penley said he had been trying for a while to get a job at Nestle but Thursday's announcement had given him new hope.
Nestle first opened a factory in Hatton in 1901, processing milk from local farms.
Nestled by the banks of the River Dove, which separates Derbyshire and Staffordshire, the plant started coffee production in the 1930s.
Villagers said the expansion of the factory could not have come at a better time.
In nearby Tutbury, the final furnace has recently been switched off after hundreds of years of glass production in the village.
"People are being more cautious about spending money," said Bob Chapman, Hatton's sub-postmaster.
"They're not necessarily worse off at the moment, but all the news is doom and gloom.
"But with the announcement of new jobs in the village, it'll bring trade to the local shops, and a general sense of prosperity. I hope."
According to Nestle, about 70% of its Hatton workforce lives within a 10-mile radius of the factory.
Nikki Atwell, who runs the local newsagents with her husband, said customers thought the extra investment in the plant was "great news".
'Job security'
"But people are concerned about whether [Nestle] will be employing locals or going to bring outsiders in," she said.
"Unemployment's not too bad around here, but you hear of places closing all the time."
Cliff Stubbs, from Uttoxeter, is a shift manager at Nestle, and has worked there since 2006.
He said: "It brings job security to the whole area which sorely needs it after some big job losses at other national companies in the area."
John Yashin, the owner of the Salt Box transport cafe on the outskirts of Hatton, is one of Nescafe's local customers.
"It's important to do anything you can to help the local economy," he said.
"Of course I welcome the jobs at Nestle, but as the owner of two small businesses, I believe it's these kind of firms that will grow the economy."