Nestle creates 300 new jobs at coffee plant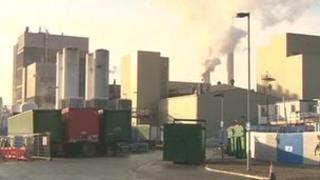 Nestle is to invest £110m in its Nescafe Dolce Gusto coffee manufacturing facility.
The extension to the plant, in Hatton, south Derbyshire, will treble production and create 300 new jobs.
Twelve new high-speed production lines will be introduced to make coffee pods, for sale in the UK and 38 other countries.
The number of employees at the plant has grown from 160 to 500 since 2006 and will rise to 800 by 2013.
Prime Minister David Cameron described the announcement as "brilliant news for UK manufacturing and for the local community".
'No-brainer'
"The jobs created by this new investment will benefit both skilled workers and those leaving school who will be able to train in the workplace to become the skilled workers of the future," Mr Cameron added.
During a visit to the plant on Thursday, Mr Cameron took part in a question and answer session with staff.
Councillor Andy Roberts, who represents Hatton on South Derbyshire District Council said it was "wonderful news".
"We need to create these jobs," he added.
Nestle opened a factory in Hatton, south Derbyshire, in 1901 but it did not have a postal address at the time so the factory was assigned a postal address for neighbouring Tutbury in Staffordshire. Historically the factory has been referred to as the company's Tutbury plant.
Paul Grimwood, chairman and chief executive officer of Nestle UK and Ireland, said: "The team there have really focused on quality output, efficiency and really making the best plant that we have for this type of product worldwide.
"That's actually meant that when we've come to spend extra money and put extra investment in, it's been a bit of a no-brainer to actually say the money should go to Tutbury."
Cliff Stubbs, from Uttoxeter, a shift manager at Nestle, said: "It brings job security to the whole area which sorely needs it after some big job losses at other national companies in the area."
Nestle said some of the new employees would become part of the first intake into the new Nestle Academy which aims to increase the number of graduates, apprentices and interns in the company.
Mr Grimwood said the company was committed to modernising its UK operation.
"Recruiting the best people for our business is the key to our continued success," he said.
"Through the Nestle Academy we will double our number of apprentices, graduates and internships, supporting the economy through the training of skilled workers.
"We will also provide on-the-job training which will open academic study to those who otherwise might not feel this is a route open to them."
Recruitment for the new jobs has already begun.