David Blunkett's dog retires to Peak District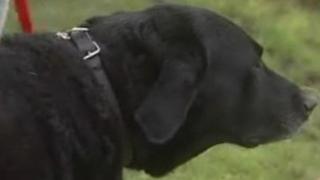 The guide dog which loyally served MP David Blunkett for nine years is enjoying her retirement in a Peak District village.
New owner Jane Slaney said Sadie had "really come down in the world" after a career in which she met the Queen, President Bush and Vladimir Putin.
Mr Blunkett was injured in 2009 while protecting Sadie from a charging cow.
He is now training with his sixth guide dog, Cosby, also a labrador retriever cross.
Mrs Slaney said: "It must have been very, very emotional for him to say goodbye to her but at least he knows that he can come and see her as and when."
Sadie, who will be 11 in December, now has to learn how to be a normal pet at her new Derbyshire home.
"She doesn't have a harness on," said Mrs Slaney. "As soon as you put a harness on a guide dog they know they are working, so she has now got to learn to play."
Mrs Slaney volunteers for Guide Dogs for the Blind, looking after dogs while their owners are away or in hospital.
She and Mr Blunkett have mutual friends who suggested she adopt Sadie, who is too old to be a working dog.
"They took me to meet Sadie and needless to say it was love at first sight," said Mrs Slaney.
Sadie came to live at her new home on 7 November.
Mr Blunkett said: "Even those who disagree with my politics have always been really pleased to see Sadie.
"I will miss her, but she deserves a long and happy retirement."