Repton School theatre reopens after £3.3m revamp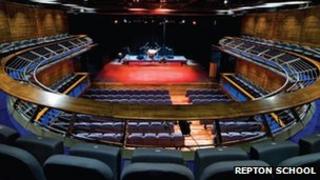 A Derbyshire theatre is to reopen following a £3.3m renovation of its facilities.
The 400 Hall at Repton School, near Burton, now has adjustable seating and a new stage.
The revamp also includes a new extended foyer area with a prism to allow natural light in to the building.
The school will mark the opening of the refurbished theatre on Wednesday evening with a performance of The Repton Mysteries.
Better facilities
School bursar Carl Bilson said the old theatre had served the community well since it opened in 1957 to celebrate the school's 400th anniversary.
He said: "It is completely unrecognisable for anybody who knew the old theatre.
"It has been completely transformed with much better seating arrangements and facilities."
Mr Bilson said the project had been paid for out of school revenues and would be available for the wider community to use in the future.
The new auditorium at the school, whose past pupils include Roald Dahl and Jeremy Clarkson, has a capacity of more than 300 and features a tension wire grid in the roof space for lighting and a new "high-spec sound system".