Derby's Green Lane and St Peter's conservation area bid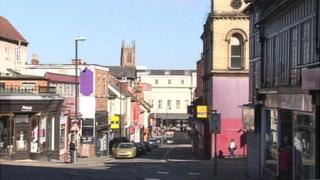 A part of Derby could be turned into a conservation area in an attempt to "kick-start" its regeneration.
Derby City Council is proposing to bid for £700,000 in lottery grants to repair and restore buildings in and around Green Lane and St Peter's.
Councillor Matthew Holmes said the plans had the support of local residents and businesses and would benefit the whole city.
A decision on the proposal will be made at a council meeting on 22 November.
The conservation boundary was originally suggested by Derby's Civic Society in 2006 and would stretch from St Peter's Church to Crompton Street's 19th Century terraces.
It would include the art deco Hunters Building on Babington Lane, the Arts College on Green Lane and the Hippodrome on the corner of Macklin Street.
Maxwell Craven, from Derby Civic Society, said: "The area around Green Lane is an early Victorian city suburb. If you make it a conservation area it attracts investment, it's all very good."
Under the proposals the council would make a bid to the Heritage Lottery Fund for a Townscape Heritage Initiative.
'Significant investment'
Mr Holmes said: "I'm confident that a new conservation area will kick-start long overdue regeneration of this area of the city.
"The lottery fund bid is fundamental in allowing us to make a really significant investment in this area of Derby," he said.
"What's being proposed will offer huge value to the city centre as a whole, not just Green Lane and St Peter's."
Local residents and business owners have backed the creation of the conservation area.
Janet Field, from Field Jewellers on Green Lane, said: "I think it would make a huge difference.
"The area has been allowed to decline over the last 20 years. It's about time the historic side of this area was brought out."