Cleric finishes 66-day UK tour to mark bible's anniversary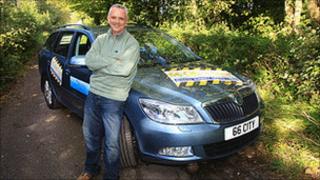 A church minister has completed a UK tour which saw him read 66 sermons from 66 bible books in 66 cities in 66 days.
Reverend Victor Robert Farrell embarked on the trip to mark the 400th anniversary of the King James Bible.
The former nuclear submariner's tour began on the steps of St Paul's Cathedral in London and finished back at Speaker's Corner in Hyde Park.
Mr Farrell, who was raised in Derbyshire but now lives in Kent, said the trip had been "fantastic".
The Christian minister, who entered a programme of theological training after leaving the Royal Navy, said the idea for the tour came when he realised there were both 66 books in the King James Bible and a total of 66 cities in the UK.
He said the main highlight had been visiting a variety of churches around the country and stepping into the same pulpits used by preachers from the past.
Fantastic pulpits
He said: "As a preacher I've had the opportunity to preach in John Wesley's pulpit, George Whitfield's pulpit, even George Fox's pulpit - the one from which he was dragged out and put into Lancaster prison.
"Over in Northern Ireland I met Charlie Casey, the Mayor of Newry, who represents Sinn Fein.
"Obviously he's got a very chequered past, as he put it, and it was an honour to meet with this particular mayor and pray with him at the end. That was a real highlight.
"It's been great to be in these fantastic historic pulpits in our nation. I just hope some of it has rubbed off on me."
Mr Farrell ended his 66-day trip on 16 November with a reading from the Book of Revelation at Westminster Abbey.