Derbyshire British Legion backs protecting war memorials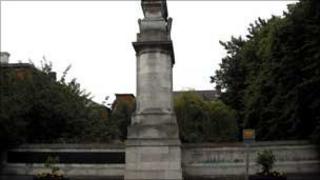 War memorials in Derbyshire will be treated with anti-theft liquid in an attempt to protect them, a British Legion spokesman has said.
The War Memorials Trust is working with the SmartWater Foundation to treat the memorials.
Royal British Legion spokesman Bernard Page said the liquid contained a code that could be seen under UV light.
Two men were jailed in 2010 for stealing four brass plaques from the Midland Railway War Memorial in Derby.
Scrap merchants
Mr Page said: "We hope it will be an excellent protection for the war memorials across the county."
He said thieves take the metal from plaques at the war memorials and sell it illegally.
It was also important to get the message out to scrap metal merchants to report any suspected stolen metal from war memorials, he added.
War Memorial Trust volunteer Kevin Miller said: "We want the custodians of the war memorials to come forward and… apply for the SmartWater... which is always visible under ultraviolet light."
The average war memorial costs between £10,000 and £20,000 to replace if vandalised or stolen, he said.
Mr Page said he hoped the project would be rolled out across Derbyshire's war memorials in the next year.