Hardwick Primary School warned by Derby City Council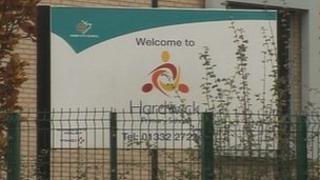 An "under-performing" primary school in Derby is set to be issued with a warning notice by the city council.
The move follows years of poor test results at Hardwick School in Normanton as well as complaints from a teaching union about the school's leadership.
Derby City Council said it hoped the notice would give the 550-pupil school the opportunity to make "a fresh start and a culture change".
Governors at the school said they were likely to appeal against the notice.
Derby City Council said its report followed a five-month investigation into poor performances at the school over the past seven years.
It described Hardwick as suffering "an alleged breakdown in trust and confidence" between the school's leadership and the teachers beneath them.
Last year the National Union of Teachers (NUT) submitted a collective grievance to the council on behalf of teachers at the school.
'Complex situation'
Head teacher Sushma Sembhi later stepped down from her position and two acting heads have shared her duties since then.
The council's report called for the school's leadership to be clarified to help it move away from a "perceived negative culture".
Governors will be given 15 days to either come up with a plan to improve performances or appeal against the notice to education watchdog Ofsted.
If they fail to take appropriate action, the city council can intervene in the running of the school.
While the NUT said it welcomed the notice, the National Association of Schoolmasters Union of Women Teachers (NASUWT) called it "a difficult and complex situation".
Derby branch secretary Dave Wilkinson said: "The situation there needs sober reflection, not knee-jerk reactions and rash statements."