Derbyshire war memorial return after vicar's rescue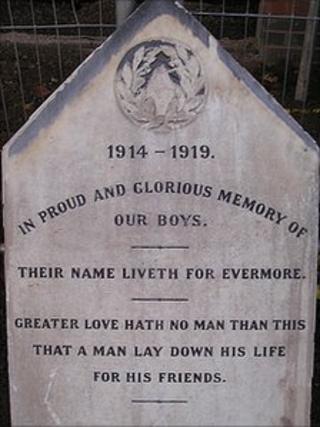 A Derbyshire war memorial rescued during the demolition of a pub is about to be put back up.
The plaque, commemorating young men killed in World War I, was attached to the wall of the Roebuck Inn in Stockbrook.
When the building was demolished in 2008, Reverend Graham Sillis from nearby St Luke's Church, retrieved the memorial before it was destroyed.
It will be restored in a new complex at the site on Remembrance Day.
Mr Sillis kept the heavy block at his church after telling builders he would keep it safe until a new building was in place.
Community procession
He said having a grandfather who was killed in the war made the memorial more poignant.
"People seem to have forgotten that without the sacrifice of these boys, we wouldn't have the freedoms that we now enjoy," he explained.
As the war officially ended in 1918, Mr Sillis was initially puzzled by the memorial's inscription, which read 1914-1919.
However research revealed that some of the men who returned injured at the end of the hostilities died from their wounds in the following year.
Mr Sillis said the local community had been delighted to hear the tribute had been preserved and was about to go back on display.
He thanked developer Jasvinder Singh, who has built shops and three-storey flats at the site, for his support and consideration in the project.
A procession including local residents and pupils from three local primary schools will leave St Luke's at 10:30 GMT on 11 November.
After a short service, hymns, readings and a rendition of the national anthem, the memorial will be rededicated by Mr Sillis in time for the traditional two minute's silence.