Derby city councillors' warning over budget cuts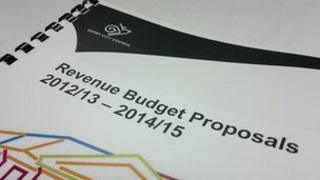 Councillors in Derby have warned that planned budget cuts will result in a "significant reduction in service".
Derby City Council has announced plans to save £22.7m during the 2012/13 financial year.
The cross-party adults, health and housing committee said it had "concerns" about some of the proposals.
The Conservative-Lib Dem council will make a final decision on what to cut in December and said it would look to protect the most vulnerable people.
Investing in prevention
Cath Roff, strategic director for adults, health and housing (AHH), told the committee the council was investing in programmes that would prevent people needing the council's help.
But she admitted cuts to Supporting People, which helps people live independently in their own home, were significant.
"The difficulty is that AHH has a very large budget and is expected to contribute savings," she said.
Labour councillor for Sinfin, Baggy Shanker, said Supporting People would eventually lose 57% of its budget.
"Two lines of a budget paper doesn't do that justice," he said.
Councillors representing all political parties agreed to express their concern about the proposals to cut the adults, health and housing budget.
But Roy Webb, a former cabinet member, said he supported the need for transformation at the council.