Deal to create urban village in Derby is signed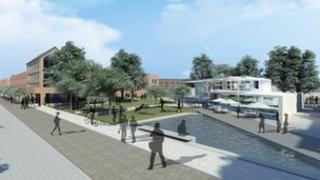 A £100m deal to create a housing estate on land between Derby railway station and the city centre has been signed.
About 800 homes, a school, leisure facilities and green spaces will be developed over several years by regeneration firm Compendium Living.
The first part of the project will see a boulevard created linking the railway station with the rest of the city.
Derby City Council said it would give the area a "fantastic boost".
The Castleward Urban Village project, which will also see improvements to Bass recreational ground, is expected to take more than a decade to complete.
Philip Hickson, leader of Derby City Council, said: "Castleward is a key element of the council's ongoing commitment to stimulating the local economy.
"This project will deliver major regeneration benefits and provide a fantastic boost for the city."