Saddam Hussein's 'buttock' fails to sell at Derby auction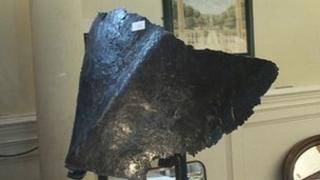 A chunk from the Saddam Hussein statue famously toppled in central Baghdad in 2003 has failed to meet its reserve of £250,000 at a Derby auction.
The 2ft (0.6m) wide bronze "buttock" was being sold by a former SAS soldier who brought it back to the UK.
Nigel Ely, who used a sledgehammer and crowbar to grab the unusual memento, was hoping to raise money for charity.
But the highest bid at the auction held at the city's Mackworth Hotel by Hansons Auctioneers was £21,000.
The bid came from a telephone bidder in New York.
'Freedom and liberation'
Mr Ely, from Herefordshire, said he had been planning to donate the proceeds from the sale towards helping injured ex-servicemen from the UK and US.
The former soldier, who joined the SAS at the age of 22 and has recently started his own art company specialising in war relics, said: "I wanted £250,000 - the top bid was £21,000 from a bidder in New York."
Charles Hanson, manager of Hansons Auctioneers, said the statue was important for what it represented.
He said: "When it comes to modern history, freedom and liberation, it's very important - it's normally something money can't buy."