East Midlands Airport bus hosts play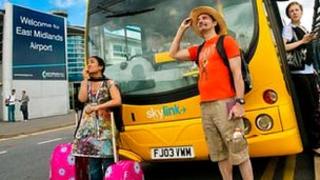 A bus that travels from Derby to East Midlands Airport has become a theatre, entertaining the passengers as they travel on the vehicle.
A comedy play, called Skybus, takes place on the route to the airport and is run by Derby LIVE.
The performance is set up so passengers overhear the actors' conversations.
Director Esther Richardson said the play was written as a "road-play" and is meant to be an "entertaining and thought-provoking experience".
"It's a performance that starts in Derby Market Place and heads off to East Midlands Airport every day and is a narrative drama," she said.
'Unique experience'
"There are four characters in it, and it explores that universal idea of going away and coming home."
One of the actors, Paul McGreevy, said: "I've never done anything like it in my life.
"The complexities of putting on a play on a bus are huge but I think we're rising to the challenge."
Passenger Emilija Ellen said that the play was a different experience for those on board.
She said: "I think they're enjoying themselves and it is a unique experience because you are on a moving bus and you're really taking in everything."
Performances run Monday to Saturday until 12 November at 19:30 BST with some matinee shows.