Derbyshire job seekers urged to go online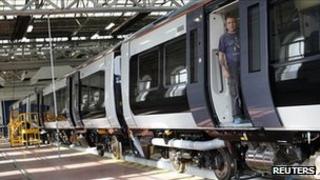 People made redundant from Derbyshire's manufacturing industry have been urged to learn how to use the internet.
A high number of job losses from major employers in the county have been announced in recent months, such as 1,400 from train-maker Bombardier.
Derbyshire and Nottinghamshire Chamber of Commerce (DNCC) said it was important to help those looking for work to get online.
The business group is backing the BBC campaign Give An Hour which is encouraging people to spend an hour showing someone how to do it.
In a statement, DNCC said: "Getting more over-55s online will be particularly relevant in Derby in the months ahead when the job cuts start to filter through.
"A lot of those older workers from the over-55s age group are likely to come from a manufacturing background and may not necessarily be computer literate or have access to the internet at home.
"The 55 to 65 age group is a key sector of the economy.
"It's important to ensure that people in this age group have the skills to compete with younger candidates who may have less experience but are computer literate - an essential attribute for employers."
Research carried out by DNCC found that more than 95% of firms in the county have their own website, 38% use social media sites Twitter, LinkedIn or Facebook and 14% of firms have their own iPhone or Android app.
"It is clear that business put great emphasis on use of new technology," the group said.