Foston pig farm: Environment Agency withdraws objection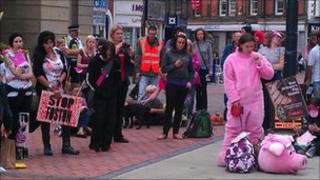 The Environment Agency has withdrawn its opposition to a proposed large-scale pig farm in Derbyshire.
Midlands Pigs Producers (MPP) has applied to build a 30-acre facility in Foston to hold 2,500 sows, 22,000 piglets and a biogas plant.
The agency initially objected to the plans over concerns about water pollution but has been assured by MPP there will be no problems.
Derbyshire County Council is still considering the planning application.
South Derbyshire District Council has also indicated it has no objection to the plans and will discuss the matter with the county council on 1 November.
The proposed farm has attracted criticism from animal welfare campaigners but MPP said it would observe the highest standards of animal care.
Actor Dominic West backed the campaign to stop the facility being built as he feared it could put small-scale farms in the area out of business.
A date has not yet been given for a final decision on the application.