Derby City Council's £250k new website criticised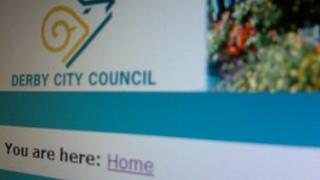 Derby City Council has been criticised for spending £250,000 on a new website which will be unveiled this autumn.
The council said the new site would provide "excellent value for money" and added its budget was set before spending cuts were announced.
But Labour leader Paul Bayliss said the redesign was "a complete waste of money".
The Conservative-Liberal Democrat run council announced plans in September to make a further 500 redundancies.
Derby City Council revealed the cost of the new website in response to a Freedom of Information request from the BBC.
It said the project's £250,000 budget was set in 2008/09 before budget cuts were imposed by the government.
Nick O'Reilly, the council's IT director, said the investment was good value because it would mean more customers would be able to interact with the authority online.
'Greatest expertise'
Two companies, Erskine and Terminal 4, were awarded the contract to redesign and build the new website.
The council said they were chosen because they had the greatest expertise and could provide value for money.
It said that £240,000 has been spent so far but the full costs would not be known until April 2012.
Nicole Berrisford, branch secretary for trade union Unison, said she had not been aware of the cost of the new website.
She said: "That's quite a lot when we know 500 FTEs (full-time equivalent staff) are going to leave the authority by 31 December."
The website is expected to launch later this year.