Sausages and sermons on offer as butcher becomes priest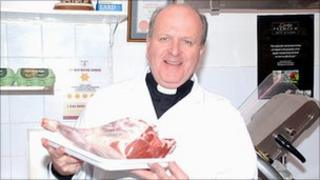 A Derbyshire butcher has started offering customers prayers alongside pork chops after becoming a priest.
Gary Dundas, who has shops in Draycott and Breaston, spent four years training for the position.
Now he has been blessed by the Bishop of Repton and is taking up the post of associate priest and assistant curate at Risley and Stanton-by-Dale.
However, as his is a non-stipendiary position, Rev Dundas will continue to earn his living from being a butcher.
He said he decided to join the priesthood about six years ago following decades of serving customers at the till.
Requests for prayers
He said: "A lot of things happen in a butcher's shop. People come in, spill the beans, tell you their secrets and ask for advice - and not just on cooking.
"I found it all quite powerful at times."
After he registered his interest in becoming a priest, Rev Dundas's regular customers have followed his progress through deaconhood, ordination and four years of training to join the priesthood.
He said: "The customers who know me think it's lovely. I get asked for prayers quite a lot and it's very special.
"I'm in a ministry that's really super and it's hard to explain how people you've known, usually for a very long time, come in and just ask for a prayer.
"I've prayed for people when the shop's been full - and why not?"
The parishes he serves are close to his shops which means clergy will often drop in to book weddings, baptisms or talk about services.
However, apart from expenses provided by the Anglican church, the meat trade remains Rev Dundas's main source of income.
He said: "My salary still comes from my shops so I'll have to stay nice and busy - which is a bit trickier in these difficult times.
"So now I'm asking my customers for advice, rather than the other way round, to try to see what will sell."