Bombardier workers lobby MPs over jobs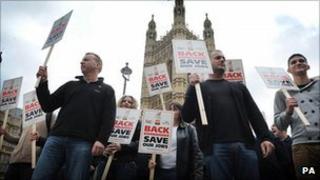 Workers from a Derby train builder have lobbied MPs over job losses after the firm missed out on a £1.4bn contract.
Bombardier is cutting 1,400 posts after the order for carriages for the Thameslink route went to rival Siemens.
Dozens of staff and supporters were joined by several Labour MPs at the Westminster rally in calling for the government to reverse its decision.
Ministers have said they were bound by bidding rules stating the contract had to go the best value bid.
Derby South MP Margaret Beckett said the decision to award the contract to Siemens was a "self-inflicted wound" which could be overturned.
She said the campaign to save jobs at Bombardier had attracted cross-party support.
The Shadow Transport Secretary has also written to the government demanding further action to support train building in the UK.
Maria Eagle told Transport Secretary Philip Hammond "the future of the industry hangs in the balance" after the order for hundreds of carriages went to the German firm.
'Jobs at risk'
The rally was organised to put pressure on the government to intervene to make sure train building continues in Derby.
The RMT union has claimed losing the Thameslink contract has put thousands of jobs and apprenticeships at risk both at Bombardier and in supporting industries.
Leader Bob Crow told a meeting of 50 workers in parliament that MPs would be "hounded" if they refused to support the campaign.
He said: "They will pay a political price of huge proportions across the East Midlands if they fail to take this issue seriously while there is still time."
A Department for Transport spokesman said: "This procurement was set up and designed by the previous government and we are legally bound by the criteria set out at the beginning of that process.
"Looking to the future, however, the government is interested in the possibility of upgrading the existing fleet of diesel Cross Country Voyager trains by adding an additional carriage with a pantograph, which could safeguard jobs at Bombardier."
Bombardier heard on Tuesday the National Audit Office (NAO) would not review the Thameslink contract as there was nothing to indicate the government had not followed the correct rules.
The decision means the campaign's hopes now rest on a possible Unite-led judicial review, being part-funded by Derby City Council.