Fake vodka seized in Nottinghamshire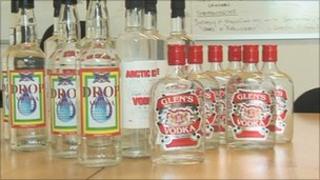 Trading standards officers in Nottinghamshire are warning consumers about dangerous counterfeit vodka.
The warning comes after Nottinghamshire County Council officers seized 21 bottles of fake vodka in September.
The seized vodka had a low alcohol content and high levels of methanol or isopropanol, which is used in cleaning fluids.
The fake vodka can cause vomiting, dizziness and blurred vision leading to blindness.
The officers said the fake bottles sometimes had misspelt labels and could smell of nail varnish.
"The problem with fake alcohol is that you really don't know what you are drinking and there can be some nasty industrial based alcohol that can cause some nasty symptoms," Sarah Houlton, of Nottinghamshire Trading Standards, said.