Samuel Slater: American hero or British traitor?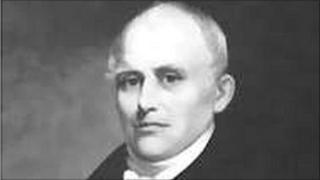 Derbyshire-born Samuel Slater became known as the "Father of American Manufactures" - but did he betray his own country?
He is one of six prominent figures who will be commemorated by the county council with blue plaques.
Rosemary Timms, from Milford, Derbyshire, voted for the 18th Century industrialist after the authority asked for public nominations.
She said: "His story is one of enterprise and intrigue, linking Belper [his birthplace] with America's industrial heritage."
Slater made his fortune in the US, but it came at a cost.
It is said he deceived his employer, abandoned his family and betrayed English manufacturing.
Water frame
In 1782, Slater was offered an apprenticeship with Jedidiah Strutt at his cotton mill in Belper.
To process cotton, Strutt used Richard Arkwright's water spinning frame which meant he could deal with huge quantities 24 hours a day.
At the time, the US was the world's biggest exporter of cotton but did not have the technology to process it.
Britain knew this and passed laws in 1774 banning textile workers from travelling to America.
US entrepreneurs were desperate to acquire the machines - in newspapers they offered bribes to English workers for their knowledge.
Samuel Slater could not resist.
'Slater the Traitor'
In 1789, the 21-year-old left his home in Belper and headed for the US by ship, disguised as a farmer.
With him was the secret to the water-powered spinning machine.
Thanks to Slater, by 1835 America was producing £80m worth of cotton a year. In 1790, it had been just £2m.
In Belper, where workers were faced with the possible loss of their livelihoods it is said he became known as "Slater the Traitor".
Time is a healer, it would seem.
Mary Smedley is the former manager of Strutt's North Mill, in Belper.
She said: "He was just a clever lad. An entrepreneur. A likely lad. The 'Del Boy' who came up trumps.
"Life's full of people [like Slater]. He had the right knowledge, in the right place, at the right time."
Belper enjoys strong links with the US thanks to Slater.
It is twinned with Pawtucket in New England, where he set up his first cotton mill.
Plans for the blue plaque - set to be fixed to his childhood home in Chevin Road, Belper - perhaps signify that his actions were worth it, in the end.