Bombardier: Doubts over Derby factory's CrossCountry hopes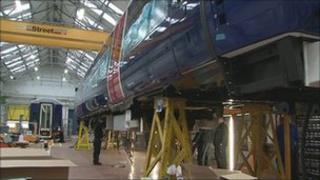 Bombardier does not have the facilities at its Derby factory to carry out work it has been invited to bid for by the government, the BBC understands.
The Department for Transport (DfT) said the firm could protect jobs by securing a deal to upgrade CrossCountry trains.
The work would involve building new steel carriages but the plant is only equipped to weld aluminium, BBC Derby's political reporter Chris Doidge said.
Bombardier said it had not decided where it might build the carriages.
The CrossCountry project, worth about £120m, would involve adapting a fleet of 57 trains to allow them to partly run on electric power from overhead lines.
However, industry experts have said upgrading the factory to handle steel might not be commercially viable.
Mr Doidge said one alternative would be for the company to build the shells at its factory in Bruges, in Belgium - where the CrossCountry trains were originally made - and ship them to the East Midlands to be finished.
This would mean about 70% of the project would be completed in Derby.
Alternatively, the entire upgrade could be carried out in Belgium.
The Department for Transport said it anticipated that, if the work went ahead, it could largely be delivered in the UK.
However, under EU procurement rules, the government cannot insist on where a contract is fulfilled.
A Bombardier spokesman said: "We welcome that they (the DfT) are looking at this opportunity.
"Where we would build the trains is a bit further down the line. We will look at it at the point of bidding."
It is widely expected the design work for the upgrade will be done in Derby.
About 1,400 jobs are under threat at the Derby plant after the company lost out to Siemens as the government's preferred bidder for the £1.4bn Thameslink contract.
Last week, 200 Bombardier workers, campaigners and politicians travelled to Westminster to put pressure on the government to rethink the decision.
But Transport Secretary Philip Hammond said the train contract would not be reviewed or put out to tender again.
The Canadian-owned firm employs 3,000 people in Derby.