Derby hospital patients offered new 'dignity' gowns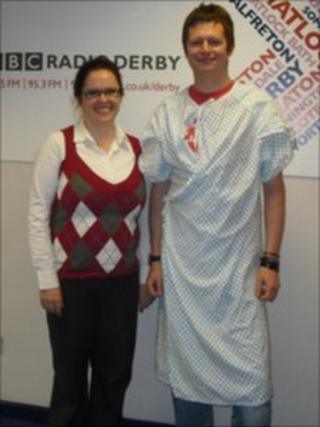 A new type of hospital gown which offers patients more privacy is being introduced in Derby.
Bosses at Derby Hospitals said they were the first to offer the new gowns, which are wider and longer than the traditional kind.
Patients can fasten the new gowns at the front or back and wider sleeves allow medical staff to attach drips without having to remove the gown.
Kerry Pape, assistant director of nursing, said feedback had been good.
"It's something we've been working on with our suppliers over the past couple of years," she said.
"We were looking at how we could increase the privacy and dignity of patients who need hospital gowns without compromising their functionality.
Single-sex wards
"It came from both patients and staff saying that if someone walks along a ward with a traditional gown that doesn't quite fit, it can leave a little less to the imagination than you would want.
"We've trialled them in different areas of the hospital and the feedback has been very positive, so now we've rolled them out across the rest of the hospital."
Ms Pape said the new gowns, which are being introduced at the Royal Derby Hospital and the London Road Community Hospital, were no more expensive than the traditional kind.
Janice Baker, who recently had knee replacement surgery at the Royal Derby Hospital, said: "The new gown is comfortable. You don't feel that parts of you are on display.
"It's good to have a bit of dignity even in a hospital gown."
Ms Pape said the modern layout of the Royal Derby Hospital, which opened in 2009, also made it easier to accommodate single-sex wards.