Jean-Claude Van Damme to shoot UFO film in Derby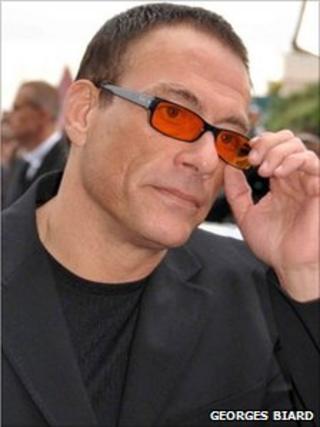 Hollywood tough guy Jean-Claude Van Damme is to appear in a new movie being shot in Derby.
The Belgian actor, nicknamed The Muscles from Brussels, is in the city this week to shoot alien invasion film UFO with Derby director Dominic Burns.
Van Damme agreed to a play a retired military adviser in the film to support his daughter, Bianca Bree, who plays a lead role in the movie.
The director said Van Damme was looking forward to seeing Derby.
Mr Burns said: "We heard he once visited the city to take part in some sort of martial arts display for about an hour but then headed off.
"He'll be here for a little longer this time."
Action sequence
Mr Burns, who has previously directed mid-budget films starring Richard E Grant and Mark Hammill, described the new movie as "Independence Day meets Monsters, told from the point of view of Signs".
The production crew is keeping filming locations secret but one sequence is to be filmed at Syn nightclub on Colyear Street.
About 200 extras are needed for two scenes which include an action sequence.
Van Damme made his name in action movies Kickboxer, Double Impact and Universal Soldier in the early 90s.
After keeping a low profile for several years, he made a comeback in 2008 with the self-parodying movie JCVD.
UFO, which is set for release next year, also stars Sean Brosnan, Andrew Shim and Simon Phillips.