Foston pig farm protesters stage rally in Derby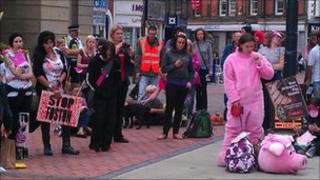 About 100 campaigners gathered in Derby to protest about a planned large scale pig farm in Derbyshire.
An application for the site at Foston has been submitted to the county council.
Protesters marched through Derby as part of the event being run from 12:00 until 16:00 BST.
Midlands Pigs Producers (MPP) said the premises would have 2,500 sows and 20,000 piglets and observe the highest welfare standards.
The event, organised by Derby Animal Rights around the Market Place, included speakers and information stalls.
MPP produces more than 100,000 pigs each year. It controls 30 farms in eight counties and employs more than 150 people.
A spokesman said they welcomed debate on the project but pointed out there was already a unit in the UK containing 3,500 sows.
The site would also use biogas from the slurry to produce electricity.
South Derbyshire District Council handed over duties for dealing with the application to the county council because of its waste implications.