Appeal for ice cream VAT cut turned down by government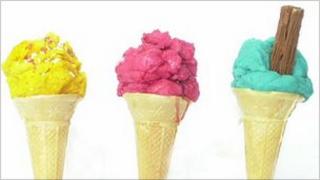 An appeal for VAT to be taken off the price of ice cream has been rejected by the government.
In April, Derbyshire-based trade body Ice Cream Alliance (ICA) wrote to the Treasury requesting the change to help producers cope with rising costs.
Now HM Revenue & Customs has written back saying it cannot make changes to VAT because it is an EU-wide tax.
Zelica Carr, chief executive of the ICA, said she was disappointed with the response.
The appeal was made after the ice cream industry was hit by a sharp rise in the price of ingredients, energy and transportation over the past few years.
'Lift spirits'
A HM Revenue & Customs spokesman said: "It is not possible to completely remove VAT from ice cream.
"VAT is an EU-wide tax, the scope of which is set out in EU law under the terms signed by successive UK governments with our European partners.
"These agreements do not allow the UK to extend the scope of its existing zero rates or introduce new ones."
Ms Carr said: "It is the UK government which has increased VAT on ice cream to 20%, surely it must also have the power to reduce it.
"I do appreciate that the country has fiscal challenges and that is precisely why I raised this as an opportunity for the Chancellor of the Exchequer to give a much needed boost to the ice cream industry, and in doing so to help lift the spirits of the nation.
"This was an opportunity to help an industry which is worth more than £1bn to the UK economy and provides pleasure to millions of people."
The Ice Cream Alliance, which represents more than 600 businesses, estimates the ice cream industry is worth about £1.3bn a year.