Silver dating back to 1662 taken from Derbyshire church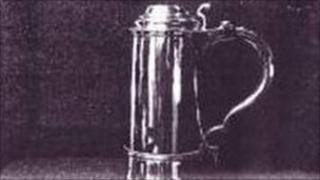 A collection of silver and pewter items, some 350 years old, has been stolen from a Derbyshire church.
St Peter's Church, on Pindale Road in Hope, was broken into between 2 July and 27 July, police said.
About 15 items, dating back to between 1662 and 1970 and including two silver chalices and a 17th Century pewter plate, were taken from a safe.
Police said the items, which are used for special services, were worth thousands of pounds.
A pair of ornate candlesticks and a tankard were among the items stolen.
Anyone with information on the theft is asked to contact Derbyshire Police.