Trinity Band, from Derby, win £50,000 deal at contest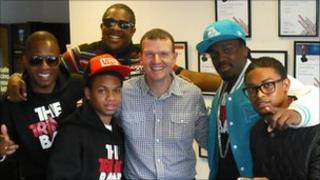 Derby's Trinity Band has clinched a £50,000 recording deal after winning a national contest for unsigned acts.
The five-piece saw off competition from 40 other bands and artists to win the prize at the Live and Unsigned Final at the O2 Arena in London.
The band have won a recording package to bring out a single, magazine coverage and money towards a UK Tour.
Judges at the contest included former Happy Mondays star Bez and BBC Radio 1 presenter Tom Deacon.
The group, who last year reached the semi-finals of Sky's Must Be the Music competition, thanked their travelling fans for helping them win both their genre category and the overall prize.
'Next step'
Vocalist Obe Watson, also known as Rukus, said: "Our support group was amazing. The Trinity Family made so much difference.
"This win will help us to the next step which is to become an established band and get our music out there."
The band formed seven years ago and their sound fuses hip hop, soul, R 'n' B and rock.
There was also success for Buxton singer-songwriter Lucy Spraggan who was runner-up to Trinity Band in the urban, pop and acoustic category.
A third Derbyshire act, Fires and Fireplaces, failed to win a top spot in their category.