St Lawrence at Shottle: the Church that wouldn't die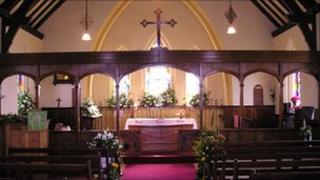 "No pubs, no shops, just a church" is how Mark Beresford describes Shottle - perched as it is, high up between Belper and Wirksworth
As a Friend of Shottle Church (FOSC) he is one of the organisers of its 150th anniversary celebrations.
A mission church owned by the Chatsworth Estate rather than the Church of England it was reduced to a congregation of two by the early 70s.
Yet supporters rescued it, rededicated it and St Lawrence survived.
Desperate measures
Peter Hill, another member of FOSC, tells of a church so far in disrepair by the late 60s and early 70s that it was the determination of just one parishioner which kept it going.
Mary Fletcher would fetch the vicar from Hazelwood in her own car and then she and her daughter would become the sole attenders at the service.
So low had the church's fortunes fallen that the Church of England wished to sell it off - only for the newly formed FOSC to assert that it belonged not to the C of E, but to Chatsworth.
Wrangling about deeds ensued, and the Friends wrote to the Duke of Devonshire, who, according to Peter Hill, "sent a rather large cheque and good wishes. We have never looked back since".
'Symbol of good'
That cheque was supplemented by some £35,000 raised by the local farming community. Again to quote Peter: "People who never went to church, never would go, were still involved. They saw this little place as a symbol of good."
These days a congregation of up to 70 worshippers can be expected to turn up for services.
This year is the 150th anniversary of the church, originally known as Shottle Mission Church, and rededicated as St Lawrence's 50 years ago in honour of the then vicar's father.
It currently awaits its latest incumbent, Reverend David Railton, who will take up his post in September as vicar of the United Benefice of Hazelwood, Milford and Holbrook.
It seems he inherits a small church with a big place in its community.