Neighbour writes to double killer Andrew Dawson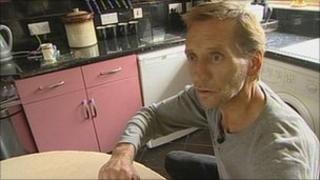 The neighbour of a man who was sentenced to life in prison for murdering two men, says he suspects he was next on the killer's hit list.
On Monday, Andrew Dawson, 48, admitted killing John Matthews, 66 and Paul Hancock, 58, in their Derby flats in July 2010.
Alan Cliff, who lives in the same block of flats as the two victims, said he was attacked by Dawson.
Mr Cliff has written to Dawson asking if he was planning to kill him.
Stopped in tracks?
"He grabbed me round the shoulders, then his arm came up underneath my neck and I felt it on my throat, he had me in a nelson," said Mr Cliff.
"I pulled him off me and said 'get out of my flat, mate'."
Mr Cliff has written a letter to Dawson, who has begun his life sentence in Wakefield prison, wanting to know if he was going to be his third victim.
"Knowing what I know now, was he going to go for one of my knives? Did I stop him in his tracks before he got to them?
"He had just murdered someone and then came into my flat, did he plan to kill me too or not?" said Mr Cliff.
'Angel of Mercy'
The jury at Nottingham Crown Court was told the bodies of Mr Matthews and Mr Hancock were found in the baths of their separate flats.
Mr Matthews, known as Dave, had been stabbed 18 times. Mr Hancock received 22 stab wounds.
Dawson had moved into the same building just weeks beforehand.
The court was told Dawson was given a life sentence in 1982 after admitting the murder of a 91-year-old man in his flat at Ormskirk, Lancashire - where Dawson was originally from.
He was out on licence from prison at the time of the killings in Derby.
When Dawson was arrested at Whitehaven in Cumbria he was armed with seven kitchen knives.
At his flat police discovered a notebook which bore the impression of a letter said to have been written by Dawson which confessed to one of the killings and was signed "Yours, the Angel of Mercy".