Bombardier jobs task force queried by Derby council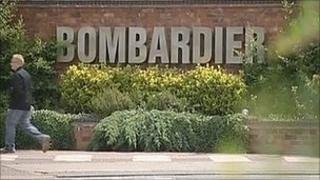 Supporting train making in Derby should take priority over a task force to help redundant Bombardier workers, the city council's leader has said.
The firm is planning to shed more than 1,400 jobs after losing out on a £1.4bn government contract.
The government-backed task force, made up of the city council, Derby City College and Skills Funding Agency, aims to reduce the impact of job losses.
But Philip Hickson said he wanted the contract reconsidered.
Last month, Canadian owned Bombardier lost out to German group Siemens as the preferred bidder to build 1,200 carriages for the route between Bedford and Brighton.
'Jobs priority'
The firm said due to this, and other contracts coming to an end, it would cut 446 permanent jobs and 983 temporary contract staff, and began a 90-day consultation process.
The Business Secretary Vince Cable set up the task force to help workers retrain or find new jobs.
He said: "Looking forward, I think it is very important that we help Derby to cope with this very difficult situation.
"I set up the task force under a former senior executive of Rolls-Royce to make sure skilled workers who lose their jobs at Bombardier are helped as far as possible to find other opportunities."
But Mr Hickson, Conservative leader of the city council, said he felt train building was "in the DNA" of Derby and he would continue to campaign for the Thameslink contract to be reconsidered.
He added: "Government have said they are determined to plough on and set up this task force and they will do that and we will be part of it.
"But I think there are other, more fundamental, things that need dealing with before we start getting into to task force business of sorting out unemployment arrangements."