Bombardier jobs 'disaster' feared by council leader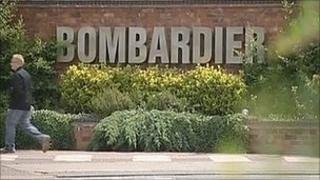 The leader of Derby City Council has spoken of a possible jobs "disaster" after train-maker Bombardier lost a major contract.
Philip Hickson went to a meeting with the firm in Berlin after it missed out on a contract for London's Thameslink.
He said the full impact would be revealed to staff next week and added the future of the train-making factory - the UK's last - was "dire".
Bombardier employs about 3,000 people at its plant in Derby.
Concerns for the factory were immediately raised when it lost the £1.4bn Thameslink contract last month, as most of its other projects are ending in the near future.
'Full consequences'
Mr Hickson said he went to Berlin hoping for good news but was now far less confident.
"We were hoping, in terms of the discussion, there might be some mileage in moving other things around in Europe to bring to Derby but clearly that is not going to be possible.
"Clearly the situation is dire."
He added: "I understand Bombardier have called all their workers to a meeting on Tuesday and although we were not told directly, I believe that is when the news of the full consequences of the loss of this contract are going to be.
"I think that is when the full scale of the disaster will be revealed."
Bombardier's Derby plant is the UK's last remaining train factory.