Derby MP calls for rethink over Thameslink decision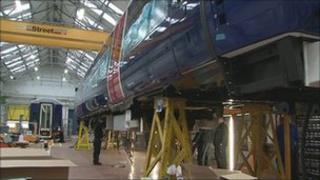 A Derby MP has called on the government to re-consider its decision to give a major train-building contract to German company Siemens ahead of Bombardier.
Last week, it was announced Derby-based Bombardier had lost out to Siemens, which was named preferred bidder for the Thameslink project.
The estimated £1.4bn deal was regarded as crucial for the Derby site - the UK's last remaining train factory.
Derby North MP Chris Williamson said the decision was "crass".
'Economic vandalism'
The Labour MP said: "You can't say you support manufacturing industry, want to help rebalance the economy, if you're going to allow a company like Bombardier potentially pull out of this country as a result of a crass decision that was announced last Thursday.
"I've written to the transport secretary asking for an explanation of their decision because I'm not satisfied with the statement that was made.
"This is not value for money. In my view it represents economic vandalism.
"All local MPs across the region must unite over this issue. We've got to get the government to overturn this ridiculous decision."
The government said the Siemens-led venture represented the best value for money for taxpayers.
Bombardier is now reviewing all its UK operations.
The firm, which employs 3,000 people in the city, said a "full review" would take place as soon as possible.
In total, Bombardier employs about 5,000 rail staff in the UK.
The Unite union described the decision a "hammer blow" for Derby and for British manufacturing.