Student Hayley Shuma has head for food sculpture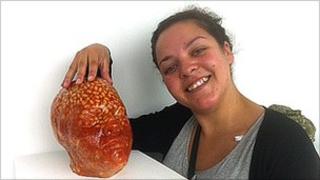 A fine art student from Derbyshire has made seven gelatine casts of her skull and filled them with leftovers of her meals.
Hayley Shuma, from Ripley, said her project was inspired by her diet and the "fillings" include baked beans, beetroot, curry and rice.
The 24-year-old said: "They're visual forms of my head. You are what you eat and I wanted to make people think about what we consume."
And the student added: "We don't consider what we put in our mouths until we see it decomposing and rotting down.
"It first started when I joined a new dieting group, becoming obsessed with food and wanting to change myself - it just fed into my work."
Miss Shuma said she chose the fillings carefully to give a range of colours and textures and has left some of them to break down for four months before including them in the moulds.
Other ingredients include mushy peas, coriander, pulses and tomato soup and were picked from one meal from each day in a week to create seven solid heads.
The study is part of her final year project at the University of Derby and she said it had so far has received some interesting reactions.
The artist said: "One friend couldn't walk past the display because she found it so odd seeing casts of my head like that."
Miss Shuma said she had no plans for any further bodily sculptures but she hoped to make some permanent versions of her sculptures.
She said she had been partly inspired by British artist Marc Quinn, who 20 years ago made a cast of his own head using his own frozen, congealed blood.
She added that she intended to continue practising art and wanted to turn her attention eventually to teaching.