Ashbourne pub calls time on passers-by using toilet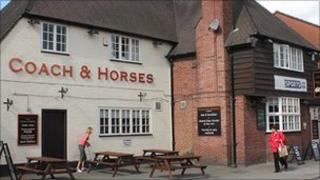 A Derbyshire landlady is confronting people popping into her pub just to use the toilet.
Larraine Clarke, who runs The Coach and Horses on Dig Street, Ashbourne, said people who used her facilities cost her "a fortune" in toilet roll and soap.
She said the problem stemmed from Ashbourne having only two public toilets.
People who use the pub toilets but do not buy a drink are being asked to make a donation to a charity box.
Ms Clarke said she had caught up to 30 people a day.
"It's happening all the time and it's a big problem that's costing me money," said Ms Clarke.
"It's not so bad if people ask first, but you get a lot of people using them and then leaving without saying a word."
The landlady said she asked people to put 20p in a charity box but that some people even refused to give a donation.
"They say they won't pay to go to the toilet.
"I say, 'it's my toilet, my toilet roll, my water, my soap and my hand dryer'."
But she added the charge would soon have to go to her business because she was ending up out of pocket.
Ms Clarke said the issue had arisen since the public toilets on the Shaw Croft car park had been closed following a fire earlier this year.
She claims people will not use the nearby bus station toilets because they are dirty.
Derbyshire Dales District Council said it had begun building a replacement set of toilets on Shaw Croft.