Derby actor Jack O'Connell nets Bobby Charlton role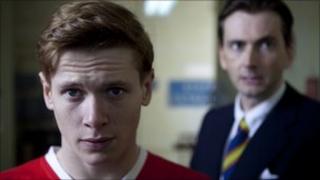 A 20-year-old Derby actor is to tackle the role of Manchester United legend Bobby Charlton in a new BBC drama.
Jack O'Connell, a former pupil at St Benedict School, will star alongside David Tennant and Dougray Scott in the one-off drama United.
The film tells the story of the 1958 Munich air crash which claimed the lives of 23 people, including eight of Charlton's team-mates.
O'Connell has previously appeared in TV series Skins and the film Harry Brown.
"I had to do my homework for this one," he explained.
"I'm fascinated by the period anyway because it's such an iconic time in British history.
"I tried to make sure none of my 21st Century mannerisms crept into my performance so people would be fully convinced I was from that time.
"Being in the costume and having my hair combed over helped."
Dougray Scott plays Manchester United manager Sir Matt Busby, who suffered serious injuries in the crash but recovered to rebuild his decimated team around Charlton.
O'Connell said: "I've not had any contact with Sir Bobby. As you can imagine it's still a tender topic with him.
"But he's been sent a copy so if he wants to watch and give me some feedback, he's more than welcome."
United can be seen on BBC Two on Sunday, 24 April at 2100 BST.