Derbyshire sports club hit by arson attack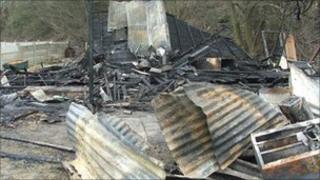 A sports clubhouse in Derbyshire has been destroyed in an arson attack, say police.
The blaze at the building on Holm Lane, South Wingfield, was discovered in the early hours of Sunday morning.
Local residents said the building had been damaged by vandals in the past but there had never been anything on this scale.
Anyone who has information about the fire is asked to contact the Derbyshire force.
It is not certain whether the clubhouse, which is used by South Wingfield 93 Football Club, will be rebuilt.
Sue Else, who helps run the club, said: "It's devastating because so much work has been put into running the place over the years.
"It might not be worth a lot but it has meant a lot to the clubs and groups that have used it."