Derbyshire boxer Steve Ward, 54, 'world's oldest champ'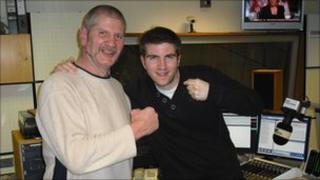 Derbyshire's Steve Ward is celebrating after apparently becoming the oldest champion boxer in the world.
The 54-year-old successfully defended his European Boxing Federation Midlands Cruiserweight title in Chesterfield at the weekend.
The boxer is now awaiting official confirmation of his achievement from the Guinness Book of Records.
If confirmed, he will take the place of Australian fighter Dexter Dunworth who retired in 2008 aged 53.
'Age is just a number'
Mr Ward, who lives in Mansfield but works and trains in Derbyshire, turned professional in 1977.
His comeback follows a 23-year retirement between 1987 and 2010.
He beat 32-year-old Manchester fighter Pete McJob over four rounds on Saturday to keep his belt and claim the record.
Mr Ward told BBC Derby it was a dream come true: "It's something I can treasure for the rest of my life. It shows age is just a number."
The fighter said he would love to finish his career with a shot at a British title.