Derby Hippodrome theatre damaged by fire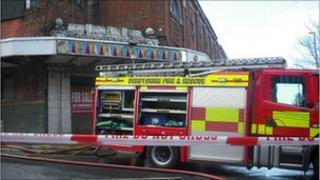 Investigations have begun into a fire which has damaged a derelict Derby theatre.
Firefighters were called to the Hippodrome, In Green Lane, at about 0900 GMT and found upper areas and the roof space smoke logged.
Crews remained for several hours at the scene to make sure all hotspots had been deal with.
The grade II listed building has been unused for years and was badly damaged during repair work in 2008.
The building has been at the centre of legal disputes between the city council and owner, developer Christopher Anthony.
The council successfully obtained an injunction against Mr Anthony in 2008, preventing him carrying out further work without permission.
It then took him to court for causing the damage but a judge ruled Mr Anthony did not have the money to pay any fine.
A structural engineer has been called to examine the affected areas.