Cat trapped in car's engine for 30 miles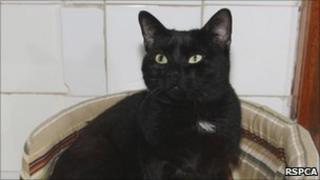 The RSPCA in Derbyshire wants to trace the owner of a cat which apparently survived a 30-mile journey trapped under the bonnet of a car.
The male cat, nicknamed Scotty, is thought to have climbed into the engine compartment from under the car while it was parked in Carlton, Nottingham.
It was found by the driver when he arrived in Hasland in Chesterfield earlier this month.
The animal charity said Scotty had escaped with some burns to his paws.
Richard Woodwards, manager of the RSPCA's Chesterfield and North Derbyshire Animal Centre, said: "Sadly, because Scotty was not micro-chipped, we have no way of finding his owners.
"He really is a sweet friendly cat and we just hope that there is someone out there who may know who his owner is."
Scotty is black with a small patch of white chest fur, has not been neutered, and is about two years old.
Anyone who can help trace the cat's owner should contact the animal centre.