Derby major route bus lanes scrapped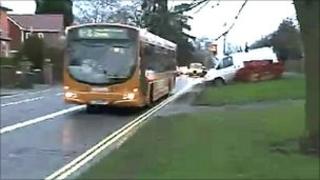 Bus lanes on three Derby major routes are to be scrapped, the city council has announced.
The authority has confirmed its intention to remove bus lanes on Curzon Street, Duffield Road and Kedleston Road.
The bus lanes have proved unpopular and the council said the decision follows views from interested parties and those who have made objections.
The works are planned to take place in mid-April and will cost about £20,000.
On Curzon Street, it is proposed to remove the bus lane which runs between Wardwick and Abbey Street.
The council said new restrictions were planned for that area as part of the Connecting Derby scheme which would continue to limit access to buses, taxis and cycles.
On Kedleston Road both inbound bus lanes will be removed while on Duffield Road the bus lane will be scrapped in its entirety, with new cycle paths installed from Broadway to Palm Court roundabout.
Councillor Matthew Holmes, cabinet member for planning and environment, said: "I've considered the issues surrounding each of these bus lanes for some time now.
"I understand the decisions made won't be supported by everyone, however I feel that we need to strike the right balance for all road users and pedestrians to keep the city moving."