'Civil ceremony' in Derby for 'loved up' male parakeets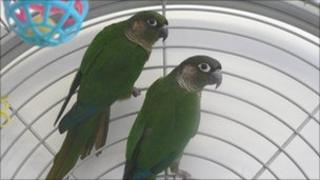 A "civil partnership" ceremony is being held in Derby for two male parakeets "who love each other".
Joey and Peter, two green conures, have become inseparable since being taken in by the RSPCA centre on Abbey Street.
The romantic pair spend all day grooming each other and "tweeting sweet nothings".
The St Valentine's ceremony is taking place to raise awareness of animals which have formed close bonds and need to be re-homed in pairs.
Joey and Peter arrived separately at the centre about two months ago, according to the charity's Andrea Walker.
She said: "We put their cages close together and any time we moved the cages away, they would start squawking incessantly until we brought them back together.
"Now they share the same cage and it's clear they love each other.
"It's quite unusual because this is a breed which doesn't particularly tend to bond."
The ceremony is being carried out by two members of staff at the centre on Saturday afternoon.
Other "paired" animals looking for homes include male and female cats Ozzy and Blink and two rabbit sisters named Salt and Pepper.